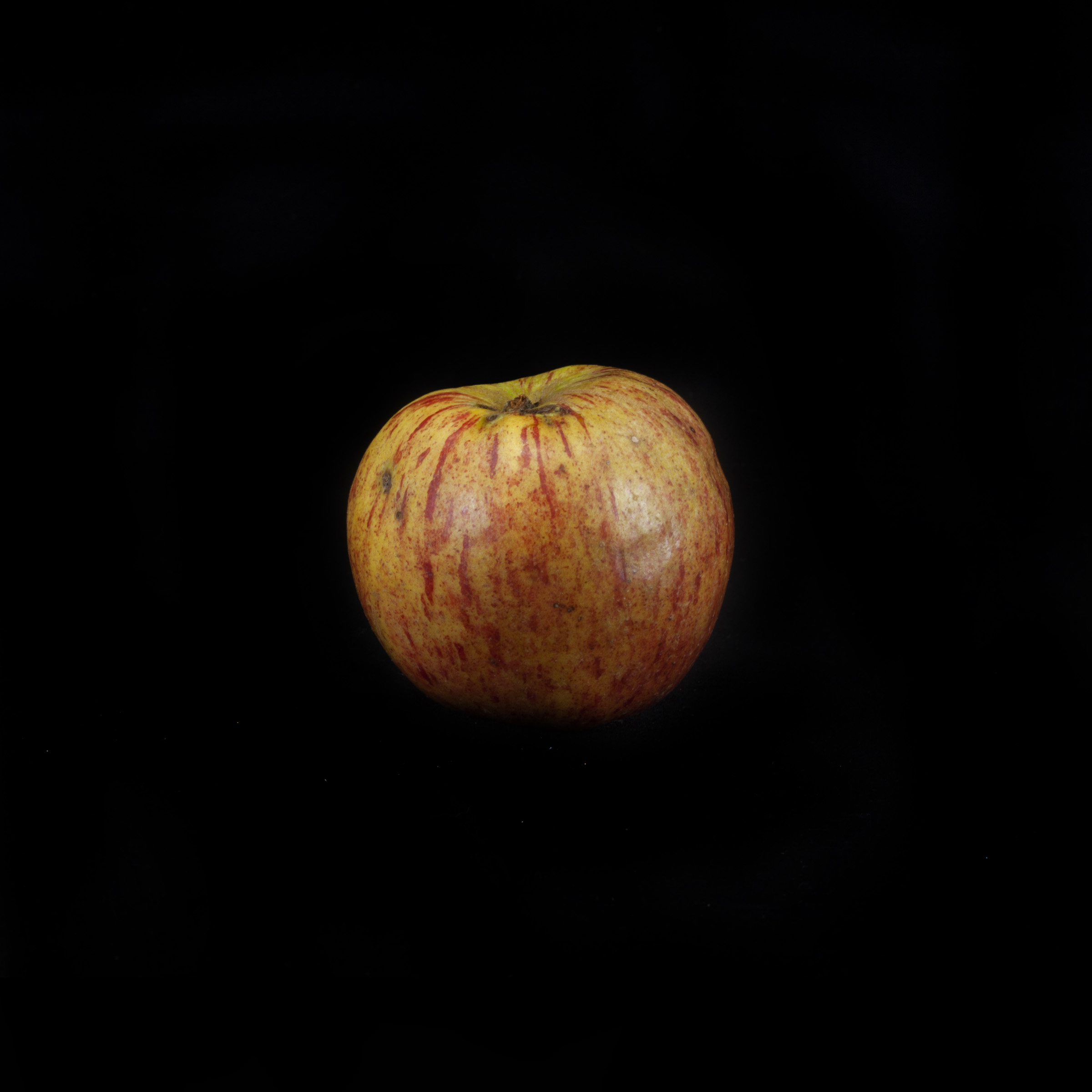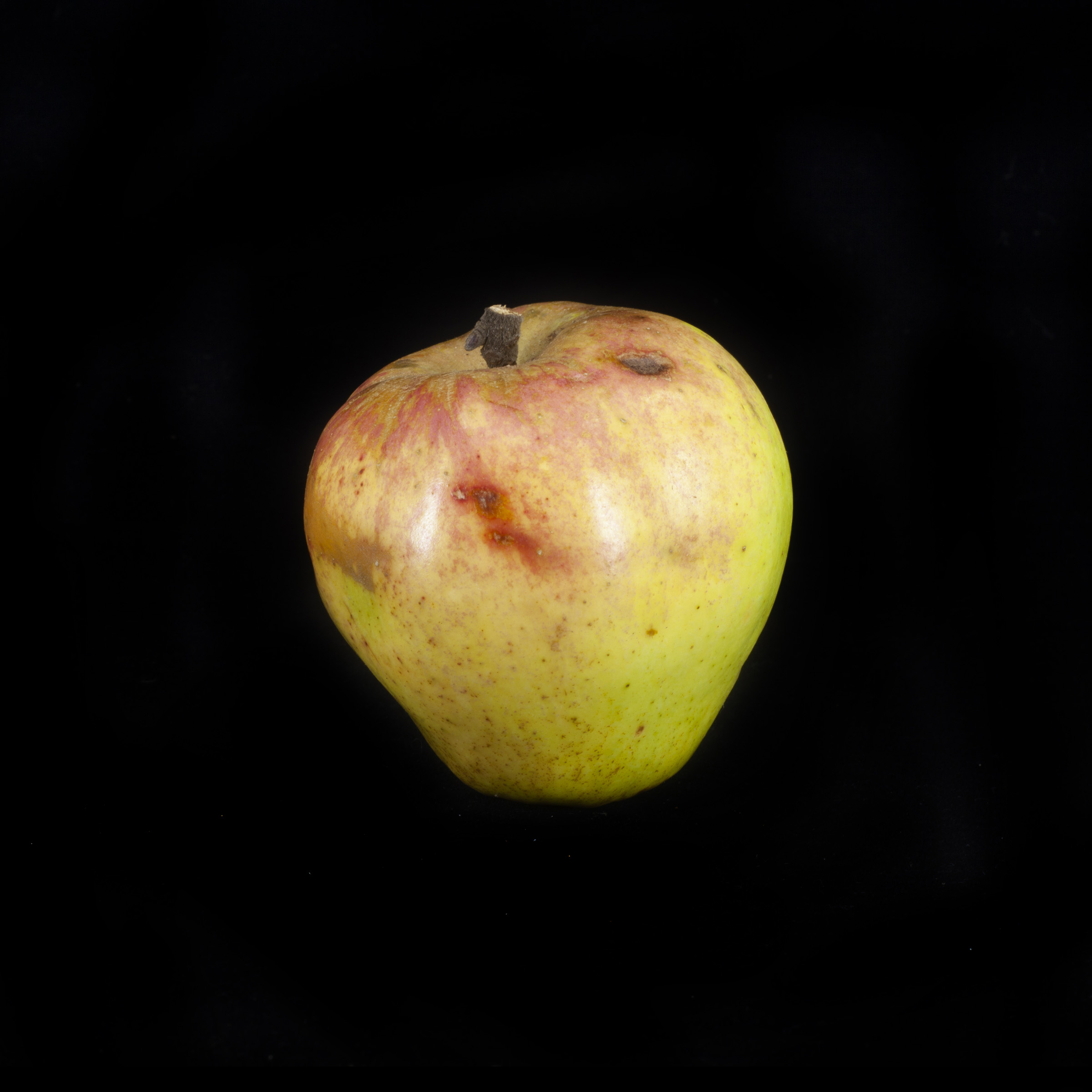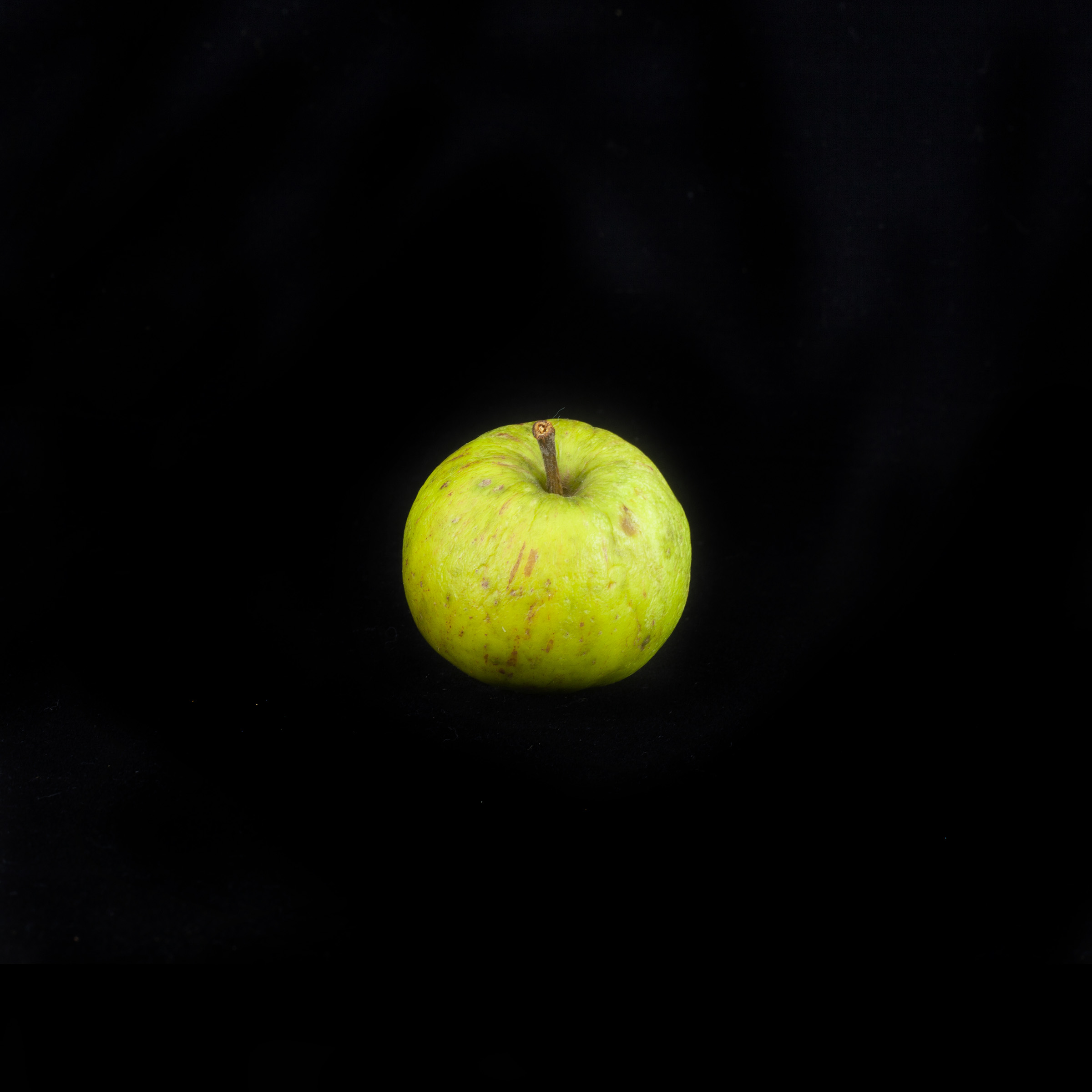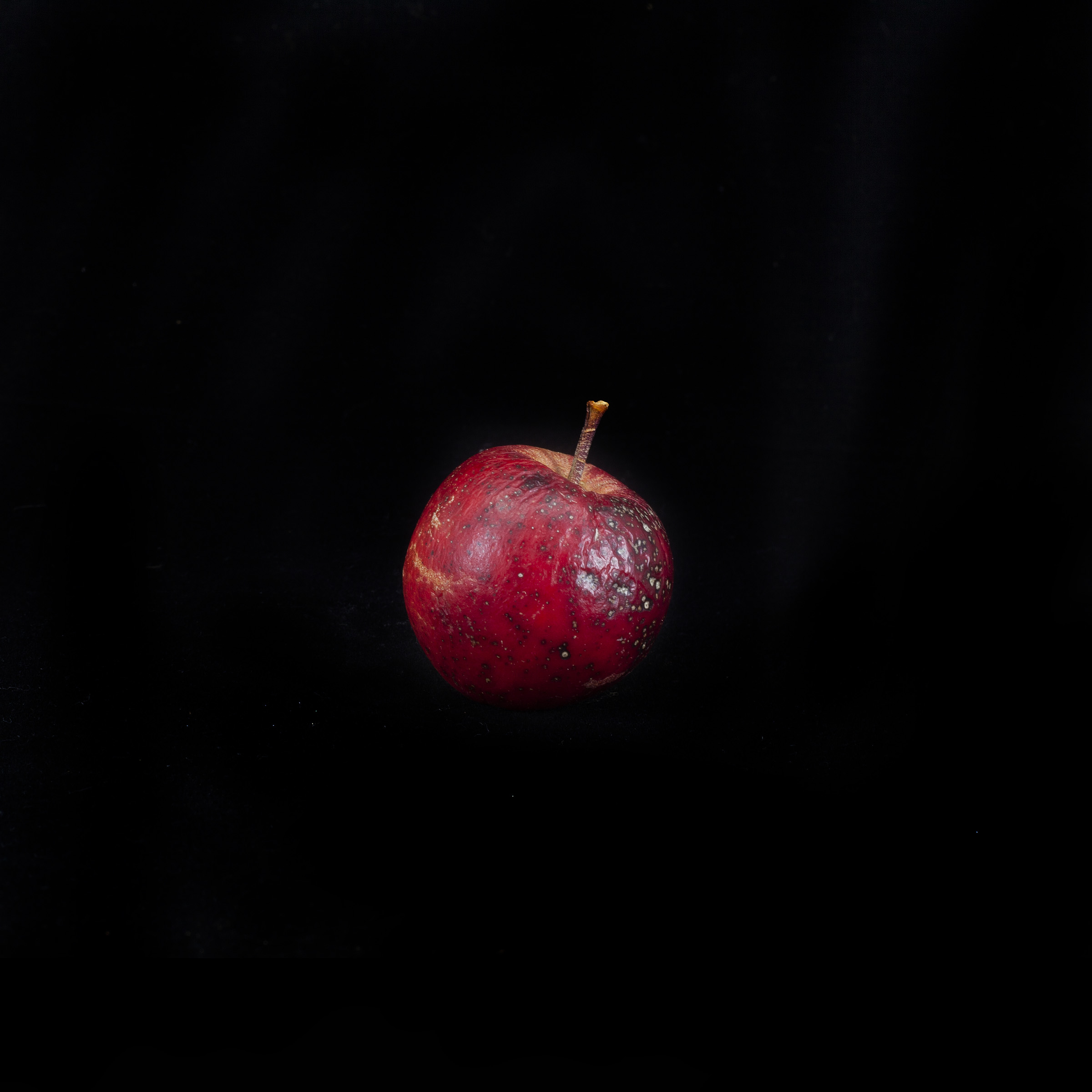 48 Wild Apples from West Cornwall photographed at comparative scale
Displayed at Kestle Barton as part of the trial Some Interesting Apples: Wild & Seedling Pomological Exhibition.

Key to composite image at page bottom.
Full notes for each apple will be posted @someinterestingapples


In total the Some Interesting Apples Wild & Seedling Pomological Exhibition at Kestle Barton featured 48 different varieties of hedgerow and wayside apple. Each of these have been recorded at comparative scale as part of an expanding photographic typology.

Due to the restrictions of holding this event during the 2020 Covid-19 pandemic, a comprehensive public tasting programme was not possible. However, an invited panel of five along with several exhibition visitors who fed back remotely, were able to put a selection of the fruit to a greater degree of scrutiny to give an impression of their future usefulness, or otherwise.

For each apple basic details: shape, skin and flesh colour and patterning, smell and texture were recorded along with general tasting notes and suggestions for use. Tasters gave to each of the fruit a numerical score out of a maximum 10 for: sweet, sour and tannic characteristics and a final overall score out of ten. The latter is obviously entirely subjective with arbitrary scoring based on general likeability and personality encouraged. A great part of the impetus behind the Some Interesting Apples project beyond the obvious celebration of the heterozygosity of Malus and rarefication of ordinary and overlooked flora is a desire to reflect upon the role played by subjective taste in conservation. From prehistoric Tien Shan bears pooping pips in search of greater calorific content to the Marshall Plan Golden Delicious, Johnny Appleseed notwithstanding, the arc of progress has tended sweet.

The following notes (to be added here) represent an attempt to corral this soft data into both numerical averages and a descriptive overview.

Scion wood will be sought this winter making good use of the ///what3words coordinates that provide the placeholder names of each apple. The best and the worst rated apples will be grafted onto two arboreal absurdities the Good Apple, or Bad Apple tree in the established orchard at Kestle Barton - a long-term project with James Fergusson – thus conserving a significant broad sweep of hedgerow biodiversity and making a mockery of the breeders' art, as so often the genus Malus tends to with many of our most famous cultivars arising from chance seedlings. Further trees will be grown to assess the longer term viability of the feral cultivars and simply to preserve the line.

It is hoped that the event will grow with more fruit donated by members of the wider public, inspired perhaps by a romantic urge to collect, preserve and name their own as yet unknown apples.




Double click to zoom.

Key to apples. Unless submitted otherwise the name of each apple is the what3words cooridnates of the location of the tree.

Row 1: acoustics.driven.quest, aquatints.frightens.composes, baseline.plugs.field, beaten.profiled.thinnest, builders.pitchers.prune, Carn Brea Red Streak

Row 2: Chacewater 30mph Russet, ghosts.taxpayers.given, cherish.immediate.looms, chuck.stunner.push, commander.dwelles.unroll, contains.complies.toolkit

Row 3: driver.accordion.push, emails.paranoid.workflow, gallons.grub.coverage, genetics.crescendo.alienates, hung.broadcast.examples, inspected.splinters.arts

Row 4: Just Delights Penryn, lifeboats.tasters.rejected, lossed.flosses.jugs, magpie.offstage.beside, mutual.assembles.spout, Nancekuke Long-Stem

Row 5: Nancekuke No.2, Nancekuke Non-pareil, nightcap.gloves.amplifier, nooks.safari.shops, nuggets.joys.exposing, pens.housework.taxi

Row 6: Polwheale's Boden Vean, props.indulges.rocker, Radnor Road A30, Wheal Peevor Cottage, rank.chugging.gains, reactions.paraded.badly

Row 7: reseller.daily.bookings, Ruan Minor Holywell, seasick.looms.newsprint, Sinns Common No.2, Swanpool Maenporth Footpath, timed.blunders.ally

Row 8: unclaimed.magpie.twitches, unframed.deeds.pound, used.found.samples, visa.octagon.himself, Wheal Peevor, Cloudy Brindle


Apples with at least 5 completed feedback sheets rated out of a maximum score of 10 below.

The tasting panel comprised: Dominic Bailey: chef/artist, Mollie Goldstrom: artist/chef, Emma Beddard: chef/designer, William Arnold: artist/amateur naturalist and historian, James Furgusson: siviculturalist/artist. Ranking also includes fedback from members of the public who took apples from the display. Thanks to Kestle Barton, Karen Townshend and Ryya Bread for their support.

7.3 ///ghosts.taxpayers.given
7.2 ///cherish.immediate.looms
7.0 ///hung.broadcast.examples
6.7 ///contain.complies.toolkit
6.2 ///Nancekuke Non-Pareil
5.5 ///genetics.crescendo.alienates
5.2 ///props.indulges.rocker
5.1 ///nuggets.joys.exposing
4.7 ///Carn Brea Redstreak*
4.7 ///nightcap.gloves.amplifier
3.5 ///used.found.samplers
3.0 ///unclaimed.magpie.twitches
2.7 ///mutual.assembles.spouts

* Carn Brea Redstreak scored an average of 9.5 for tannin. It is practically inedible as a dessert apple but of great interest for cider. I have several 2 year grafts on MM106 rootstock for trials. The mother tree survives disease free at nearly 700ft on the windswept Carn Brea near Redruth. One of a small population of tannic monsters.



The 2020 Champion ///ghosts.taxpayers.given (AKA. Chacewater, No.2 by A3074)








Shape: Conical to slightly round.

Skin Colour: Some red speckling, mostly light acid green with russet radiating from cavity.

Flesh Colour: creamy/warm white

Smell: Nose-filling sweet and rich

Texture: very juicy and quite firm but not crisp.


General tasting notes:

"Great acidity, real refreshing kick, mouth-watering and well balanced, let down only by a slightly foamy texture. Could be multipurpose.

"Candy sour with pleasing creamy mouth feel."

"Pleasant tartness, bready/yeasty on finish"

"Would pair well with caramel."

"Appealing candy-sour taste, points deducted only for texture, would be interesting juiced."

Sweet: 4.9

Sour: 7.1

Tannic/Bitter: 4.1

Overall rating: 7.3




Some Interesting Apples - Rationale

An apple grown from the seed of an open pollinated fruit will, while perhaps inheriting the characteristics of its parents, always create a variety distinct from either. The Malus genome is larger than that of humans and sometimes the seedlings can be radically different. As a reasonably guilt-free discard from a car or train window these feral seedlings of Malus domestica proliferate, perhaps catching our eye in a flash of May blossom or viewed laden with fruit by a stretch of railway track on a drab October schedule delay.

There is an incredible gene pool of apples adapting to local conditions in hedgerows across the country. A lot of these will be of limited utility, and many of course will be seedlings of Golden Delicious or Gala etc, but some will have desirable characteristics, in terms of flavour and resistance to diseases and the vagaries of climate.

In the context of the climate emergency and the 'global weirding' of weather systems this ability to adapt and thrive in a range of situations makes Malus an important species within potential robust novel ecosystems and as ongoing food resource.

To propagate known varieties of apple, a new tree must be grafted from existing material of the variety onto a rootstock with known characteristics, a long-term commitment to preservation generally considered worthwhile only where the variety has strong commercial prospects.
In 1990 Common Ground instigated the first Apple Day to promote the 'local distinctiveness' and value to landscape histories of the wealth of varieties largely ignored in favour of a few super-market friendly strains.

Building on the now well-known apple day theme and the work of wild apple collectors in the USA, through the form of physical exhibition and photographic typology, some Interesting Apples shifts the focus toward those wild seedlings to which comparatively little attention has been given and their potential for future usefulness.